Node Leaders
Node Leaders are experts in many fields hosting public projects at dinacon that you can collaborate with!
Documentation Team
This is the team we have hired that will help you with Rule #2 of dinacon – document your projects! They are one of the most valuable resources we have!
Participants
Here are the amazing junglepunks that will rock DINACON 2 with you!
Conference Chairs
Dr. Andrew Quitmeyer is a hacker adventurer studying intersections between wild animals and computational devices. He left his job as a tenure track professor at the National University of Singapore to start his own Field Station Makerspace in Gamboa Panama: Digital Naturalism Laboratories (dinalab.net). Here he blends biological fieldwork and DIY digital crafting with a community of scientists, artists, designers, and engineers from around the world. He runs mobile workshops called "Hiking Hacks" where participants build interactive technology in outdoor, natural contexts. The Digital Naturalism Conference (dinacon.org) is his research's largest event, pulling in over 100 participants annually from all fields to collaborate on finding new ways of interacting with nature. His research also inspired a silly spin-off international television series he starred in for Discovery Networks called "Hacking the Wild."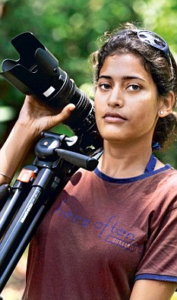 Tasneem has spent the last decade facilitating interdisciplinary initiatives in the fields of ecology, conservation, education and science communication. Her formal training in marine zoology and practice in the development of experiential learning pedagogies was translated into active programs during the eight years spent as director of the Andaman and Nicobar islands Environmental Team. Tasneem's photography and writing are visible across scientific and popular publications, book contributions and development of learning materials.
Beyond the scope of research and field based education, she believes that learning and working across subject boundaries is fundamental. Her participation in public speaking and leadership programs is an effort to explore these pathways.
Past Participants
Over 100 people from every part of the globe came to Dinacon last year!