By Scott (Seamus) Kildall and Michael Ang
Unnatural Language, a collaboration between Michael Ang and Scott Kildall, is a network of electronic organisms ("Datapods") that create sonic improvisations from physical sensors in the natural environment. Each Datapod has custom electronics connected to sensors, a speaker, and a wireless network. The sensed data, for example from electrodes that measure the subtle electrical variations in the leaves of plants, is transformed into a unique synthesized sound. Encased in sculptural materials (natural fiber, leather, leaves, etc) and dispersed into a natural environment, the Datapods enter into a sonic dialogue with the existing ecosystem of plants and animals.
Unnatural Language proposes that technology and nature are forming a new hybrid ecology, where innovations such as intelligent devices that occupy the natural landscape are dissolving the traditional nature-culture dichotomy. This work repurposes this technology to amplify unseen processes such as plant intercommunication, river health and subtle microclimate changes.
We were at Dinacon in Gamboa, Panama for 18 days and this was our first full development and installation of our project. After several adventures in the area, we decided to deploy eight Datapods in Lake Chagras, which feeds the Panama Canal, since this constitutes a transitional space: a brackish marshland, which also had signs of human outflow such as garbage floating in it.
At Dinacon, we developed two types of sensor-synthesizers. The first detected electrical conductivity levels in water and modulated different sampled sounds that we recorded of rocks sinking in water from a hydrophone. As the water quality fluctuated with these sensor readings, the output of the synthesizer played higher and lower-pitched samples accordingly.
For the water-based datapods, we put our speakers, and the electronics, which consisted of custom software synth code on an ESP32 chip with an on-board amp and water sensor onto various garbage flotillas, which we constructed from the litter that we had collected by kayak.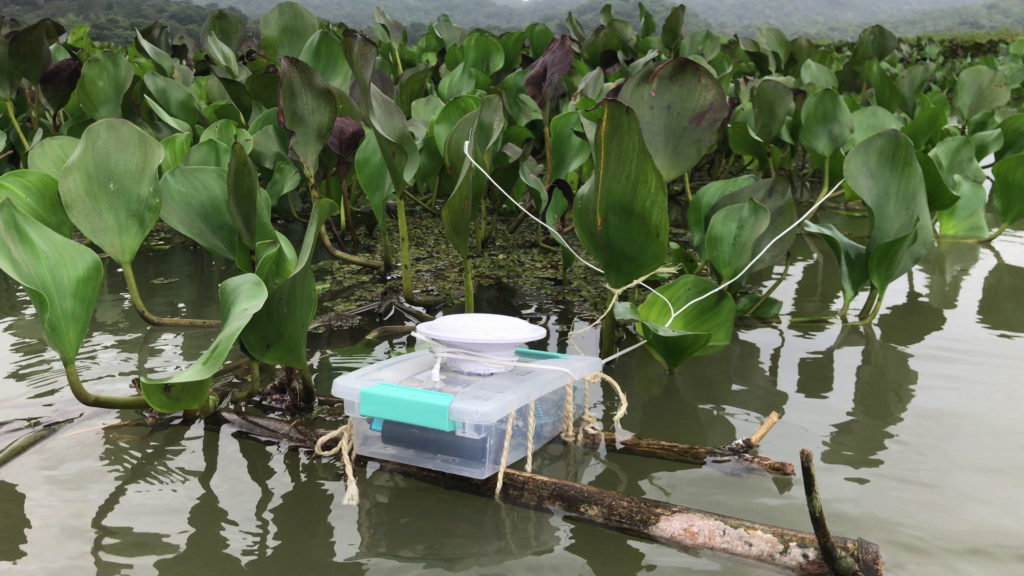 The second sensor-synth combination was a plant sensor, which detected electrical activity in plants using electrodes. Plants tend to respond relatively rapidly (2-3 minutes) in response to various environmental triggers. The synth we developed acted as a drum machine, modulating different tempos according the the plants that it was attached to.
We learned many things at Dinacon! Making a compelling Datapod took much longer than we thought it would. To achieve the best type of synth effect, we recorded humans performing an activity with the thing being sensed: rocks being thrown into water and water being poured through a strainer onto a plant. We then cut these up into bite-sized pieces and ported them into our software, which uses compiled C++ code on the ESP32 to make dynamic effects.
Also, the janky look for the sculptures themselves had a broad appeal and this will be a direction for the project into the future. We're looking forward to further site-specific installations of Unnatural Language.
Many thanks to all our fabulous co-Dinasaurs for the wonderfully playful and productive atmosphere, and especially to our intrepid film crew (Monika, Ruben, Cherise, and Andy on the drone!)